Hello everyone!
I wanted to share my recent experience with running Faust/Pd patches on AC/DC. Unfortunately, most of them didn't work at all. What I mean is that AC/DC doesn't produce any sound or voltages from its output pins. I also tried some simple tutorial patches, but encountered the same issue.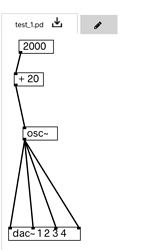 My assumption is that the inputs/outputs and knob labels might be different from other devices on the OWL platform. However, I'm not entirely sure about this.
Can anyone provide any suggestions on this matter?
Thank you!